We're sure that most of you are using some sort of streaming platform at this point. Whether it's Netflix, Disney+, Tidal, or Spotify, it's hard not to be subscribed to anything these days. People have become accustomed to being able to access their favorite movies and listen to their beloved music on demand. Unfortunately, these things cost money, and sometimes that can be a lot of money! However, did you know that you can get Spotify Premium for free? Read this article and find out all about it.
What Is Spotify
Spotify is a Swedish audio streaming service that was founded almost 17 years ago. It was certainly the first platform of its kind, and its creators, Daniel Ek, and Martin Lorentzon, took a huge risk when launching it.
Spotify is basically a huge online database filled with music from various artists coming from all over the world. The idea is that anyone with an account can access these songs without having to buy each and every one of them. In addition, the Spotify app offers custom playlists created for specific moods, times of day, and events. It's the ultimate experience when it comes to listening to music. As of now, the streaming service also offers podcasts as well as other forms of audio content. Over the years, Spotify has acquired many well-known podcasting networks and signed many exclusive deals with top creators that have established them as the absolute best audio platform.
What Is the Difference Between Spotify Free and Premium?
There are two forms of subscription when it comes to Spotify, namely Spotify Premium and Spotify Free. Here's a quick breakdown of what they both have to offer.
Spotify Free
Spotify Free is, as the name suggests, a free version of the app. It is available to anyone with a Spotify account, and its use is not limited in time, meaning that it is subject to any sort of trial period. Unfortunately, free users don't get much benefit when it comes to actually consuming the service. Granted, they have access to all of its content, but they can only enjoy it on Shuffle. There is no way to select the specific songs or podcasts you want to listen to. On top of that, the sound quality is much worse compared to Spotify Premium, and listeners are bombarded with ads every few songs, which significantly affects their overall experience.
Spotify Premium
The Spotify Premium subscription is preferred by many users. It comes in 4 different forms, namely:
Individual – 1 account for $9,99/month
Duo – 2 accounts for $12,99/month
Family – 6 accounts for $15,99/month
Student – 1 accounts for $4,99/month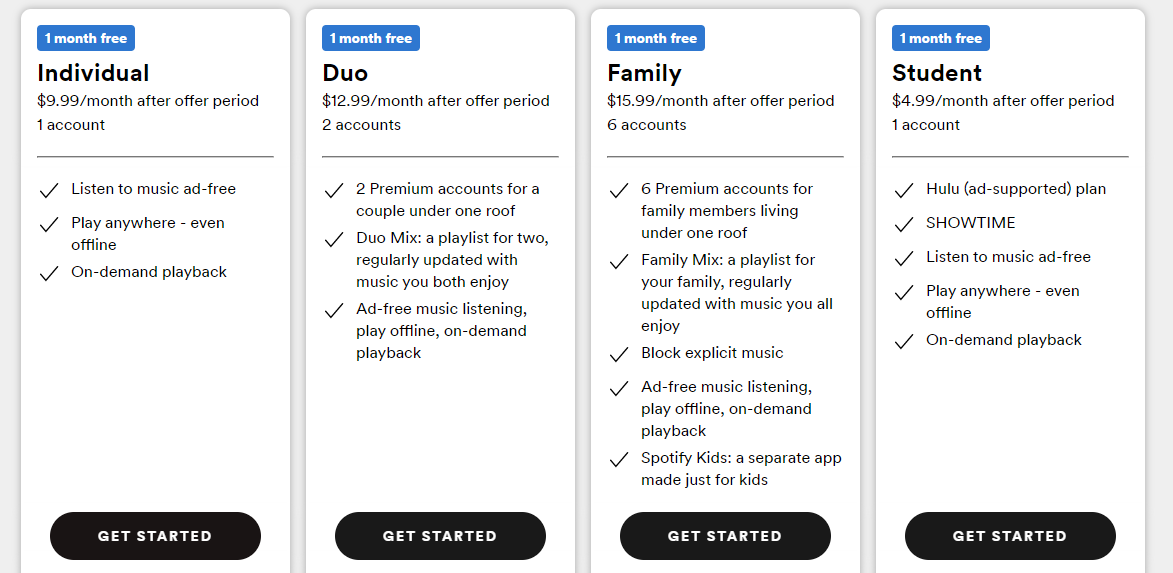 Regardless of the plan you choose, Spotify Premium subscribers can take advantage of numerous features that allow them to maximize their audio listening experience. Some of these include:
Offline listening
Spotify Wrapped
Unlimited skips
Ad free music listening
Personalized playlists
Higher sound quality
Downloading songs and podcasts
These premium features allow users to fully enjoy the Spotify app. Comparing them to what the free plan has to offer, it's a completely different experience. Of course, not everyone is able to afford a premium subscription, especially considering all the other streaming services on the market. It's not easy to handle so many monthly payments, even with all the affordable plans Spotify has to offer. However, you'll be happy to know that it's possible to get a Spotify Premium account for free!
How to Get Spotify Premium Account for Free?
As aforementioned, there are actually different ways to get a free premium Spotify account. Some of them are very easy and straightforward, and others not so much. However, they are all doable. Let's go through them now:
Spotify Premium Free Trial
This solution is not ideal because it is not permanent. However, it's still a great way to enjoy quality music without spending money, even if it's only for a certain period of time. There are two versions of the trial, one lasts for 30 days and the other for 3 months. However, only PayPal users are able to get the latter, as it is a partnership between Spotify and the online payment service.
Spotify Gift Card
This one may not be entirely free, but it is not necessary for you, who will have to spend money. Gift cards are a great present and if your birthday is coming up, it might be a good idea to ask your relatives to buy a Spotify Premium subscription. Gift cards are available in 1, 3, 6, and 12-month versions and you can use them to stack up to 18 months of Spotify premium!
Work Benefits
Nowadays, companies are eager to offer more and more benefits to their employees. Of course, everyone knows the obvious ones, namely premium medical care, gym memberships, and meal cards. But recently employers have also decided to invest in more trendy ways to motivate their workers. Paying for their subscriptions is one of them! Many well-known companies provide premium Spotify accounts, one of them being Starbucks, for example. So if you're lucky enough to have an open-minded employer, you may be able to use this music streaming service completely free!
Spotify Music Converters
Music converters aren't exactly the same as the Spotify Premium app but stick with us because the end result is sure to please you. There are programs available online that allow you to download music from streaming services such as Spotify and Apple Music. So if you use this type of program while taking advantage of the free trial period, you'll be able to enjoy all your favorite songs afterward, without having to pay for them! Of course, this doesn't solve the problem if you're looking for a permanent solution and if you want, for example, to always be up to date with your favorite podcast. But if your intention is simply to be able to listen to your favorite albums, then MP3 music converters are great for that!
Spotify Mod Apk
The least conventional solution on our list is the Spotify Premium Mod Apk, which is an app designed to unlock all the features offered by Spotify Premium, regardless of whether one actually pays for the subscription. This type of solution is usually offered by hackers and other IT-savvy individuals. Creating a Mod APK requires finding "holes" in Spotify's original code, which is quite a challenge, to say the least. Unfortunately, we must warn you, that while Spotify is unlikely to ban these types of apps, using them runs the risk of downloading a virus to your computer, due to the fact that they are not authorized programs.
Conclusions
Spotify is a great streaming service, especially if you can take advantage of all the premium features. The premium plan is an amazing solution for any music lover, as it allows you not only to listen to your favorite songs on demand but also to create collaborative playlists, enjoy the highest quality sound and discover weekly new releases. Whether you opt for a free account or Spotify's premium plan, you should definitely try it out at some point. And once you decide to do so, don't forget to read our article and take advantage of all the options of getting Spotify Premium for free!