Fortnite took the world by storm as soon as the game was released. Players fell in love with the intense gameplay and colorful graphics, which led to the game earning $9.1 billion in the first two years after its release. Currently, it has more than 400 million registered users and its popularity is constantly increasing. Read this article if you are or want to become a part of the Fortnite community and earn free Fortnite skins without putting much effort into it.
What You Need to Know About Fortnite
As we already mentioned Fortnite is one of the most popular games currently on the market. It was released back in 2017by none other than Epic Games, a developer known for titles such as Gears of War and Shadow Complex. The game is available in three different modes:
Fortnite Battle Royale
This is the most popular version of the game, which is available to everyone through a free-to-play model. As for the gameplay, it works in a very typical way for Battle Royale games. There are 100 players fighting in a given match, and the winner is the one who defeats all the others and is the last to remain in the arena. However, thanks to colorful graphics and an exciting build mode, this version of Fortnite managed to attract even people who are not Battle Royale fans.
Fortnite Save the World
Save the World was initially released as free-to-play, but turned pay-to-play in 2020. It is a "cooperative hybrid third-person looter shooter tower defense sandbox survival video game" (which is a mouthful) that combines all the best gameplay elements such as crafting, scavenging, exploration, and combat. So If you're kind of apprehensive about trying out the Battle Royale, but still want to play Fortnite, this game mode is perfect for you.
Fortnite Creative
Fortnite's third rendition is a free-to-play mode that allows players to unleash their imagination and create their own custom matches and arenas. It was released in December of 2018, first for battle pass holders and then for the entire community.
Whether you choose to face other players in Battle Royale mode or work together to tackle the husks running around the arena, you can be sure that Fortnite will bring you plenty of fun and provide a place to express your creativity. With colorful graphics, intense gameplay, and hilarious elements, you'll be guaranteed a dose of very good time. And in order to fully round out your experience, you can enhance it with unique skins.
All About Fortnite Skins
Since it's mainly the visuals that made Fortnite famous in the player community, cosmetic skins are one of the most important elements of the entire game. Additionally, given that most of the content is completely free, it's these items that Epic Games makes all the big bucks on (V-bucks to be exact).

There are currently 1,572 Fortnite skins available for purchase. If you aren't familiar with what exactly they are, skins are cosmetic items that basically serve as "a new outfit" for your character. As for the extent of their visual impact, it all depends. Some of them only change your clothes, while others can turn you into a peeled banana, for example. And that brings us to the next point, that just like the game itself, most of the cosmetic items are hilarious, and their creators clearly don't take themselves too seriously. Players can choose from items such as a jacked unicorn, Rick Sanchez, and a Bao Bun-looking warrior. Pretty much the sky's the limit.
Are Fortnite Skins Valuable?
Just like in other big games, the value of Fortnite skins is determined by the law of supply and demand (at least after they are no longer available in the Item Shop). If a given skin is really popular, but it's hard to find on the market, its price is likely to skyrocket. This is influenced mainly by the skin's color, design, and whether it is coming from some sort of interesting collaboration or special collection. However, as for the skins that are still in the Item Shop, they have fixed prices depending only on their rarity.
The prices of skins in Fortnite's Item Shop are as follows:
Uncommon Skins – 800 V-Bucks
Rare Skins – 1,200 V-Bucks
Epic Skins – 1,500 V-Bucks
Legendary Skins – 2,000 V-Bucks
Now at this point, it should be noted that Fortnite uses V-bucks as the official in-game currency. So if you want to make any purchases in the Item Shop, you'll have to fill up your virtual wallet first. Fortunately, getting V-Bucks is rather easy, as they can be bought in bundles and for real money. However, when it comes to rare items that are no longer available in the in-game store, their prices can reach several thousand dollars, if you manage to find them at all.
Is It Possible to Get Free Fortnite Skins?
Prices of Fortnite skins can reach really high amounts. Even if you only want to buy the ones available in the Item Shop, the costs add up pretty quickly and can come out to quite hefty sums. So it's no surprise that players are looking for ways to get them for free. While it's true that Epic Games sometimes offers special giveaways and promotional campaigns that allow you to add some free cosmetic items to your inventory, such events are relatively rare. On a day-to-day basis, the only options for acquiring skins are buying them online or getting them as part of a Battle Pass (which you also pay for).
Fortunately, there are platforms like CashYea that provide you with the ability to get cool skins without spending a single dime.
How to Get Free Skins with CashYea?
CashYea was created with users in mind and the entire process of earning free Fortnite skins is extremely simple. All it takes is an internet connection and a few minutes of spare time.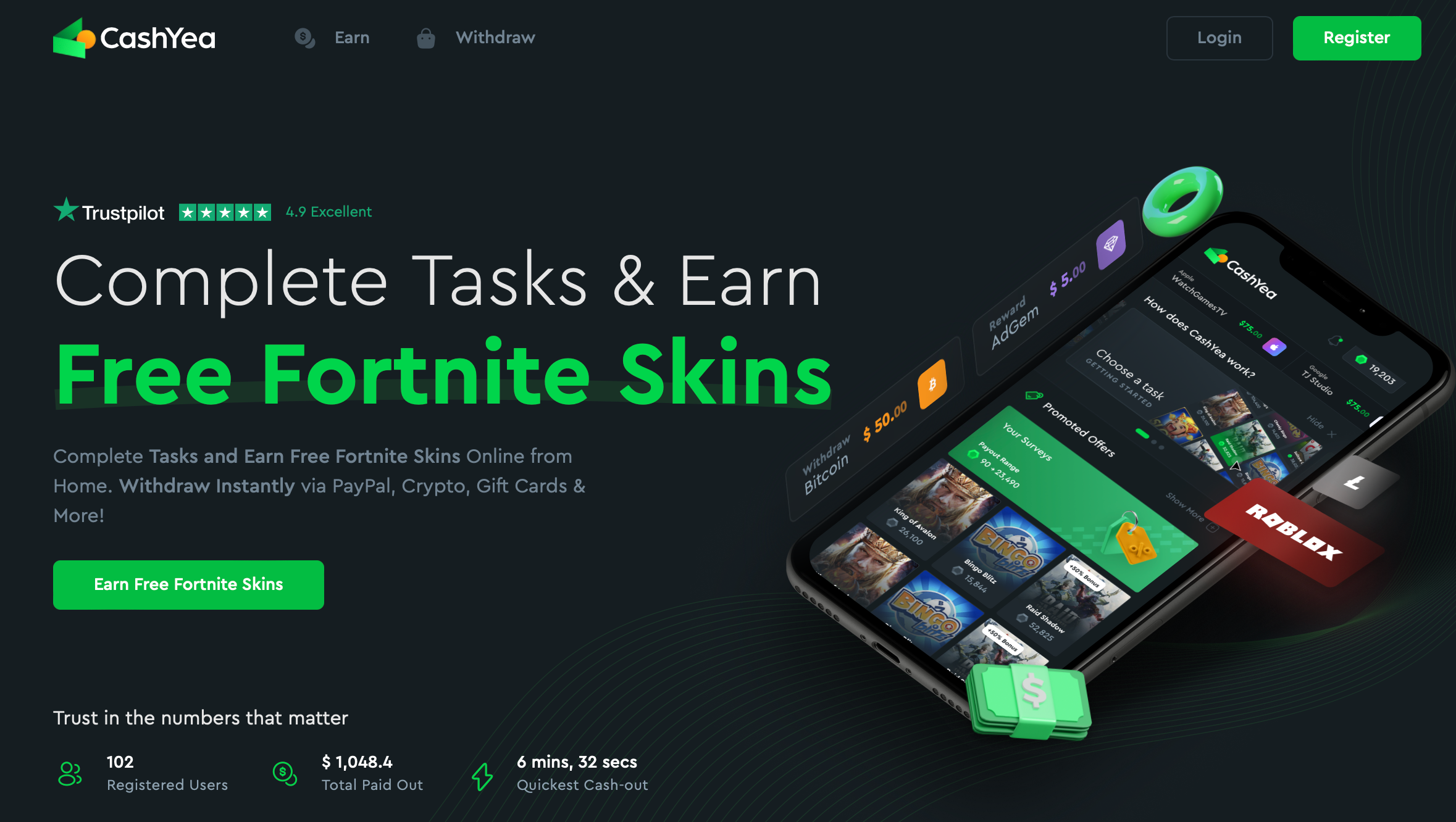 First of all, you need to create an account on the website. Then go through all the available tasks and choose the ones you want to complete. These include things as simple as filling out online surveys, logging into some website, or watching a short video. Once you get a few of them done, you'll be rewarded with Gems that you can later exchange for free items, such as free Spotify subscriptions, Amazon gift cards, or Fortnite skins.
Conclusions
Fortnite is a great game full of fun visuals and interesting elements. If you haven't had a chance to try it out yet, you should definitely do so soon. And if you do decide to do that, check out CashYea first, because, with just a few minutes of free time and a little effort, you can build a really impressive inventory that will ensure you make waves in the arena!